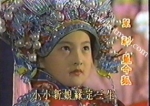 Uyển Quân Biễu Muội (Sầu Lẽ Bóng II)
Taiwanese - 199? (Posted 03/12/05)
English/Chinese name
Vietnamese name
Role
Grace ?
Dư Tiễu Phàm
Hà Uyển Quân
?
Vương Bội Hoa
Chu Bá Kiện
?
Từ Nại Lân
Chu Trung Khang
?
?
Chu Thúc Hào



This Taiwanese production belongs to the second part of Sầu Lẽ Bóng, Quỳnh Dao's famous set of series. This one has a pretty happy ending although three great guys fall in love with the same wonderful girl during the Dân Quốc's era, a time struggling between old customs and liberal thoughts. It is sort of a complicated love story because the three men are biological brothers.

The bachelorette: Hà Uyển Quân
Once upon a time, there was a wealthy family with three sons. The oldest (thirteen year old) son was really sick, so the doctor advised the family members to have a lucky bride married to him, so she can help him overcome his sickness. Originated from a poor family, Uyển Quân's greedy aunt and uncle sold her to this noble family to be such a "lucky" bride at the age of eight!

She really brought the luck to his household because the oldest son recovered. The parents-in-law loved her as their own daughter, so she was brought up with love and caring who excelled in literature, painting, sewing, blah blah blah....As time went by, she grew up to be an extremely beautiful, gentle, intelligent and noble young lady. Thus, she captured the heart of all the three sons in the family. What about her? Did she love all three or just one? And whom was she destined to be with?

Bachelor # 1: Chu Bá Kiện
The oldest son - the only one out of the three men that followed the traditional Chinese schooling (his younger brothers absorbed the new education). He was also the child that almost died if not thanks to Uyển Quân's "luck." He was also her "legal" husband. One problem: he's too old for her (J/K). Actually, he was about ten years older than she, and he always thought that age was the gap separating their husband-wife relationship. Note: these two people never really got married; they only had the title "husband and wife." I will further elaborate on this later. Keep reading!

Bachelor # 2: Chu Trung Khang
The second son - my favorite character. Why? Because he was more realistic. The man had flaws instead of being so completely perfect like Bá Kiện. When he was ten years old, he "substituted" his older brother to act as the groom and go to the eight year old bride's house to welcome her. Then he performed all of the wedding rituals with her. (Bá Kiện was too sick on his deathbed; he could not even open his eyes)! A very talkative and optimistic young boy, Trung Khang knew how to reassure the little Uyển Quân to not be afraid of becoming a bride :-). He grew up as an attractive, outspoken young man and was greatly influenced by modern ideas, especially the freedom to fall in love without the arrangements of the parents. There was only one "tiny" problem: he fell in love with his unofficial sister-in-law!

Bachelor # 3: Chu Thúc Hào
The youngest son, about the same age as Uyển Quân. On the night of the childhood wedding, he and Uyển Quân played together all day, then they got tired and slept in the same bed (remember, they were only 8 years old at that time, so please spare your grins :-)). He got along with Uyển Quân all the time, and he could cheer her up in any situation. Whenever she was sad, he was the first person that she thought about and wanted to talk to. He was energetic, cute and had a big heart to love the animals. This led to his desire to become a generous physician. He also had the same problem like Trung Khang: to fall in love with his "sister-in-law."

Back to the story line, we can say that the parents "bought" Uyển Quân to be Bá Kiện's wife while Trung Khang was the one vowing at the altar, and Thúc Hào was the one she spent the night with on the wedding day! Sounds incredibly unacceptable, but please remember that they were only little kids at that time, so the parents did not really think about how complicated the situation could become. The let them spending too much time together in studying and playing.

When Uyển Quân reached sixteen years old, they were about to let Bá Kiện and her to do the official wedding ceremony, so she would become his legal spouse...., the two younger sons decided to step up and proclaim their love to her; otherwise, they would lose her forever to the oldest brother. Imagine if you were Bá Kiện, how angry, sad and disappointed you could be with your siblings. On top of that, the poor Uyển Quân was confused and could not make up her mind who she loved the most since she loved all three of them! Bá Kiện was indeed really upset, but being such a gentle and caring person, he decided to leave the family hoping that Uyển Quân could narrow down her choices between Trung Khang and Thúc Hào. Coincidentally, Trung Khang also decided to leave town on the same day that Bá Kiện departed. He could not stand the fightings or cause more pains to Uyển Quân.

Things were not the same at home anymore. Thúc Hào felt guilty that his brothers left for his happiness, so he eventually decided to leave the family as well. Devastated by the departure of all her sons, Mrs. Chu blamed this huge loss on Uyển Quân, who did not have the courage to choose one of these three amazing men. During a depressing moment, she scolded and kicked Uyển Quân out of the house. Uyển Quân then suffered the difficulties in the real world yet survived through all the obstacles. Everybody finally reunited with a tale, but whom would she end up with? Watch the series! I can't afford to reveal this info. Feel free to email me to discuss whom you would like to be her soulmate (whether you already viewed the series or not).