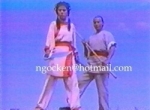 Formidable Lady from Shaolin - Thiếu Lâm Vịnh Xuân Quyền
TVB production - 198? (Posted 01/15/02)
English/Chinese name
Vietnamese name
Role
Michelle Mei Suet
Mễ Tuyết
Vịnh Xuân
Sak Sau
Thạch Tú
Chí Hiếu
Maggie Siu
Thiệu Mỹ Kỳ
?



The story mainly describes how the kungfu type "Vịnh Xuân Quyền" was created. Vịnh Xuân and Chí Hiếu derived it from Shaolin kungfu. Vịnh Xuân originated from a drama band while Chí Hiếu was from a wealthy family. She always liked to learn martial arts, but her father did not support that. On the other hand, Chí Hiếu only studied literature and knew nothing about kungfu. The same bad general killed both of their family, so they had to escape to Shaolin and enrolled as students there. Through hard works, they developed this new powerful kungfu together to defeat their enemy.
This series was made in the early 80s, and I enjoyed the fighting scenes: they seemed to be "real" since there were not much special effects. Mei Suet was extremely beutiful and young. The plot was pretty simple, and some parts might be a bit boring. Maggie Siu only played a minor role, but she looked quite cute; her character was pitiful because she fell in love to an evil man. This was probably one of her first role in her early acting career.